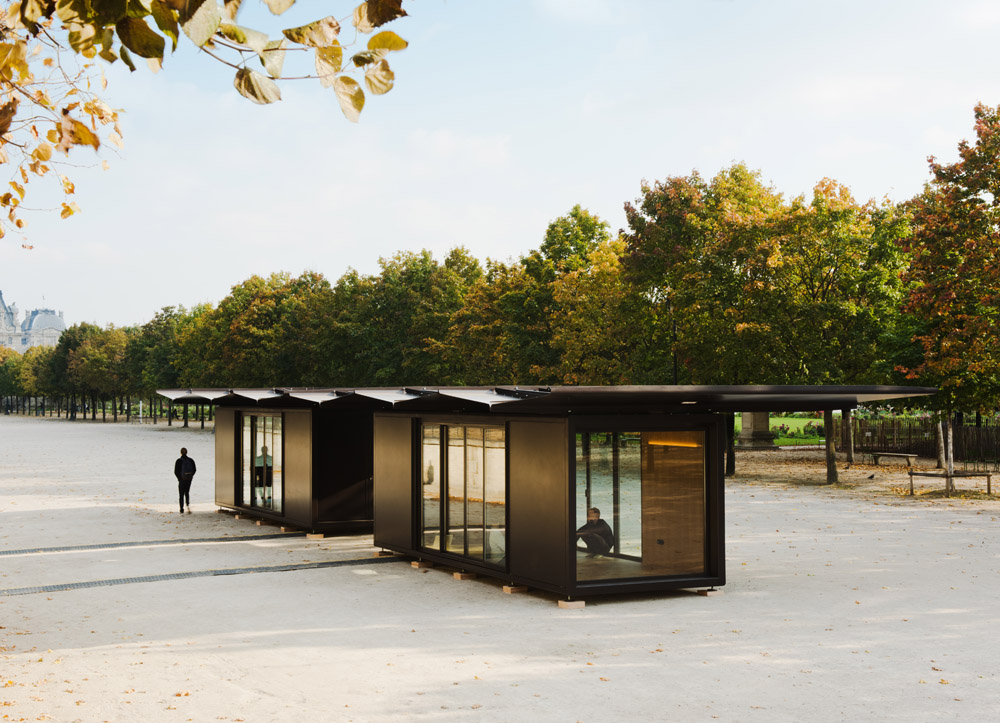 Kiosque is a modular pavilion designed by Ronan and Erwan Bouroullec. The project performs as an adaptable unit that calls attention to the need for activating public spaces, and creating pockets of space for concentrating shared programming and diverse scenarios for social activities. 
Atelier blam has worked on the project's technical design and realization in collaboration with La Machine. Each unit breaks open the geometry of the classical pavilion, incorporating three main elements: a steel structure, a movable envelope, and a modular roof, dominating the volume. Imagined as a temporary structure, Kiosque has been designed to be easily transported and assembled in three hours. This assemblage is performed in two stages: the positioning of the rectangular base and the placing of the roof. With a number of set parameters, this modular pavilion can generate different configurations depending on its surroundings and purpose. 
The project has been exhibited at various locations, such as Jardin des Tuileries in Paris, Parlement de Bretagne in Rennes, Programme UNIC pour EMERIGE Les Batignoles (Rue Cardinet) in Paris and in Mexico. 
Client : EMERIGE – Galerie Kréo; Design : Erwan & Ronan Bouroullec;
Production : Atelier blam; Year : 2015;